Latpull Down and Rowing Machine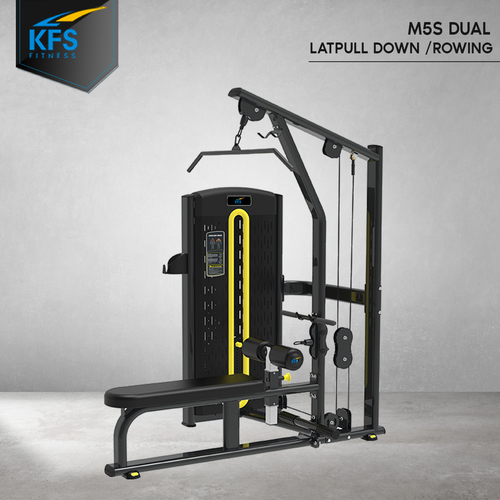 Latpull Down and Rowing Machine
Price And Quantity
Product Specifications
Product Description
Configuration information
Framework: The main frame uses 50*120*2.0T/50*100*2.0T flat oval tubes, while the movable arm uses 60/50*3.0T circular tubes and 40*80*3.0T flat oval tubes, The connection braces use 50*100*2.0T flat oval tubes, The weight box uses50*120*2.0T flat oval tubes. The exterior features an individualistic design.
Cushion: A one-time molding foamed PU, anti-deformation, hardness: 65(5) Asynthetic leather surface which can withstand friction by 500g tested 8000times. No peeling or fading will occur over time. Standard color is graphite black, carmine(optional)
SPECIFICATION
Seat adjustment system: The system has 5 different levels of adjustments at100mm each.
Cam: The cam is made of high quality 8.0T hot rolled plate by laser cutting ,while the guide rope groove is welded together for added durability.
Balance weight: Made of high-quality steel material that has undergone a surface treatment process to prevent corrosion.
Backplate: The plate features high-quality steel, surface derusting, secondary spraying.
Chain wheel: A 105mm high-strength engineering plastic with precision machined bearing.
Handles: PVC handle
Bearing: Domestic top-level bearing
Weight stack: Made of thin steel plates and are designed with a smooth surface with no pitting.
Guide rod: Made of hollow stainless steel, refined through grinding ,polishing process. It is bright and lasting with no rust formation after a 48hsalt spray test.
Weight stack latch: The weight stack latch color is yellow
Steel cable: The maximum effective load bearing weight is 1,000kg, which can be stretched for more than 100,000 times.
Foot pad: PVC using on time injection molding technology.
Scale: Made of 2mm stainless steel with laser cutting and laser engraving technology.
Bottle cage: Yes
Towel rack: Yes
Bearing cap: Plastic material
Screws: A2-70 stainless steel, with other equipment parts equipped with 12.9level alloy steel screws.
Foot plate: The plate includes PVC foam, built-in steel frame for stability.
Guide rails: 45# alloy steel, d=30mm, high temperature treatment, hardchromium -plated surface, corrosion-resistant, wear-resistance, good toughness,anti-deformation.
Weight stack cover: ABS material